RAQC says Goodbye to Departing Members
Published: April 7, 2017
At its Friday, April 7, 2017 Board meeting Council said thank you and goodbye to three members. All were recognized with a token of appreciation to recognize their contribution to improving air quality in the Denver/North Front Range region. Will Toor has been on the Board since 2009 and during his tenure has […]
At its Friday, April 7, 2017 Board meeting Council said thank you and goodbye to three members. All were recognized with a token of appreciation to recognize their contribution to improving air quality in the Denver/North Front Range region.
Will Too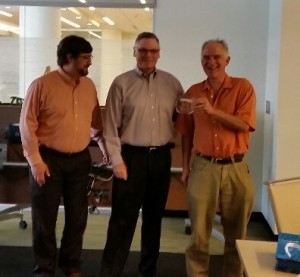 r has been on the Board since 2009 and during his tenure has held positions on the Board representing Boulder County and the Conservation Community.  Will has been instrumental in helping to shape air quality in the Denver metro area.  He currently serves on the Colorado Air Quality Control Commission and was recently confirmed for another three-year term.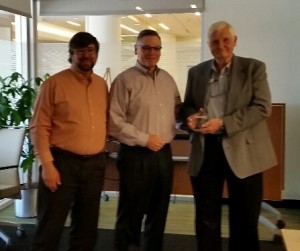 Gary Thomas jointed the Board in 2014 as a representative with transit expertise. Gary is retiring from his positon as executive director of Care-A-Van/SAINT Inc., a non-profit, volunteer-based transportation agency serving seniors and people with disabilities in Larimer County.   Gary's thoughtful insight has helped to guide air quality planning.
Jennifer Schaufele served on the Board since 2009 as a representative of the Denver Regional Council of Governments (DRCOG).  In February Jennifer resigned her position as DRCOG's Executive Director, a position she held for 13 years.  She was instrumental in many regional achievements during her tenure at DRCOG.
Thank you, Will, Gary and Jennifer for your hard work and dedication to the keeping the air clean in the Metro Denver/North Front Range region.